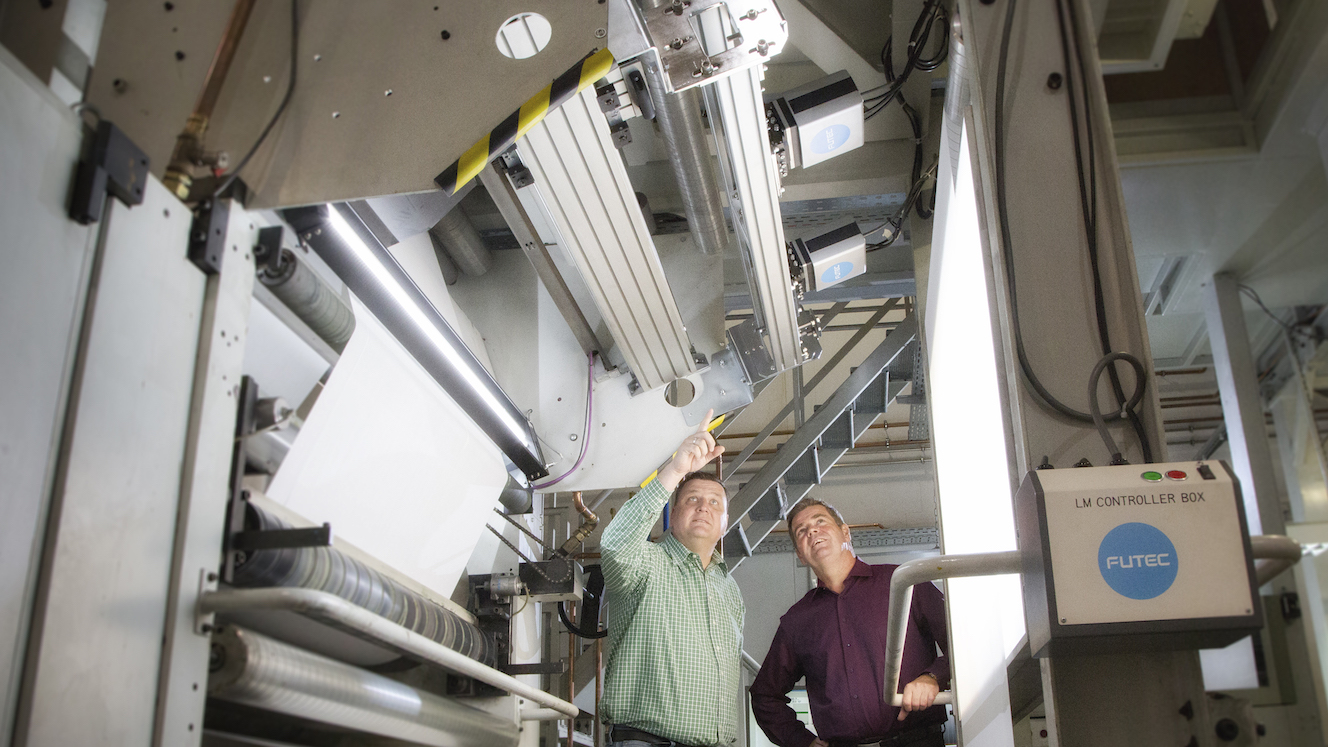 24 Apr

FUTEC delivers 10,000th system and unveils machine learning tools for flexo printers

FUTEC has proudly announced a key milestone, the installation of its 10,000th system at Schröder Design Verpackung GmbH, Germany.

This Saxony-based flexo printer and converter boasts customers such as Lufthansa, major German football teams, tissue manufacturers and online traders. Continuing its momentum in the EMEA region and commitment to flexo printers, FUTEC is also announcing the first machine learning solutions for fault detection, representing the next generation of quality control specifically for flexo printing machines.

Established 28 years ago, Schröder Design Verpackung operates in the highly competitive flexo packaging market, predominantly producing semi-final products with reel-to-reel operation. It manufactures film rolls with variable widths and thicknesses, with and without micro- and macroperforation. In addition, it produces printed and unprinted silk papers of different quality levels, and branded film bags. Schröder's newly installed FUTEC system – the 10,000th FUTEC system installed worldwide – will operate on an 8 colour CI flexo press.

"Quality is of ever-increasing importance to our customers and it is what we have become known for," comments Jan Schröder, general manager and owner of Schröder Design Verpackung. "We have been very impressed with FUTEC's expertise and the excellent support we have received throughout the consultation and installation process. This FUTEC system will enable us to further increase quality standards, and importantly provide the quality guarantee that our customers now demand."

Leading the machine learning revolution in fault detection
FUTEC's hardware-based image processing solution offers the highest processing speed available on the market. It enables the real-time availability of large amounts of inspection data. Now, using sophisticated algorithms to intelligently analyse and interpret the data, FUTEC can bring significant improvements and efficiencies in key areas for flexo printers: splice detection, pressure control, and CI drum inspection. FUTEC software enables patterns to be identified in real-time, and the system is able to quickly and clearly distinguish between a printing defect and a machine defect. With Industry 4.0 in mind, these new benefits enable swift troubleshooting as well as avoiding unnecessary disruptions in production, therefore helping printers transform their businesses.

"We are thrilled to reach our 10,000th installation and delighted that Schröder Design Verpackung decided to invest in a FUTEC system as this is further validation of our expertise in 100 percent inspection for flexo," said Silvio Neumann, FUTEC general manager, EMEA. "This exciting news comes at the same time as important breakthroughs we have made with machine learning in the flexo space, representing the next generation of 100 percent inspection. We believe this innovation will be revolutionary in helping our customers to be more profitable and allow them to achieve greater efficiencies at the same time as guaranteeing quality."

These new machine learning capabilities will be available from FUTEC later in 2018.
Visit FUTEC at the Hispack tradeshow, 8-11 May 2018, Barcelona, Pavilion 2, Level 0, G Street, Stand 744.