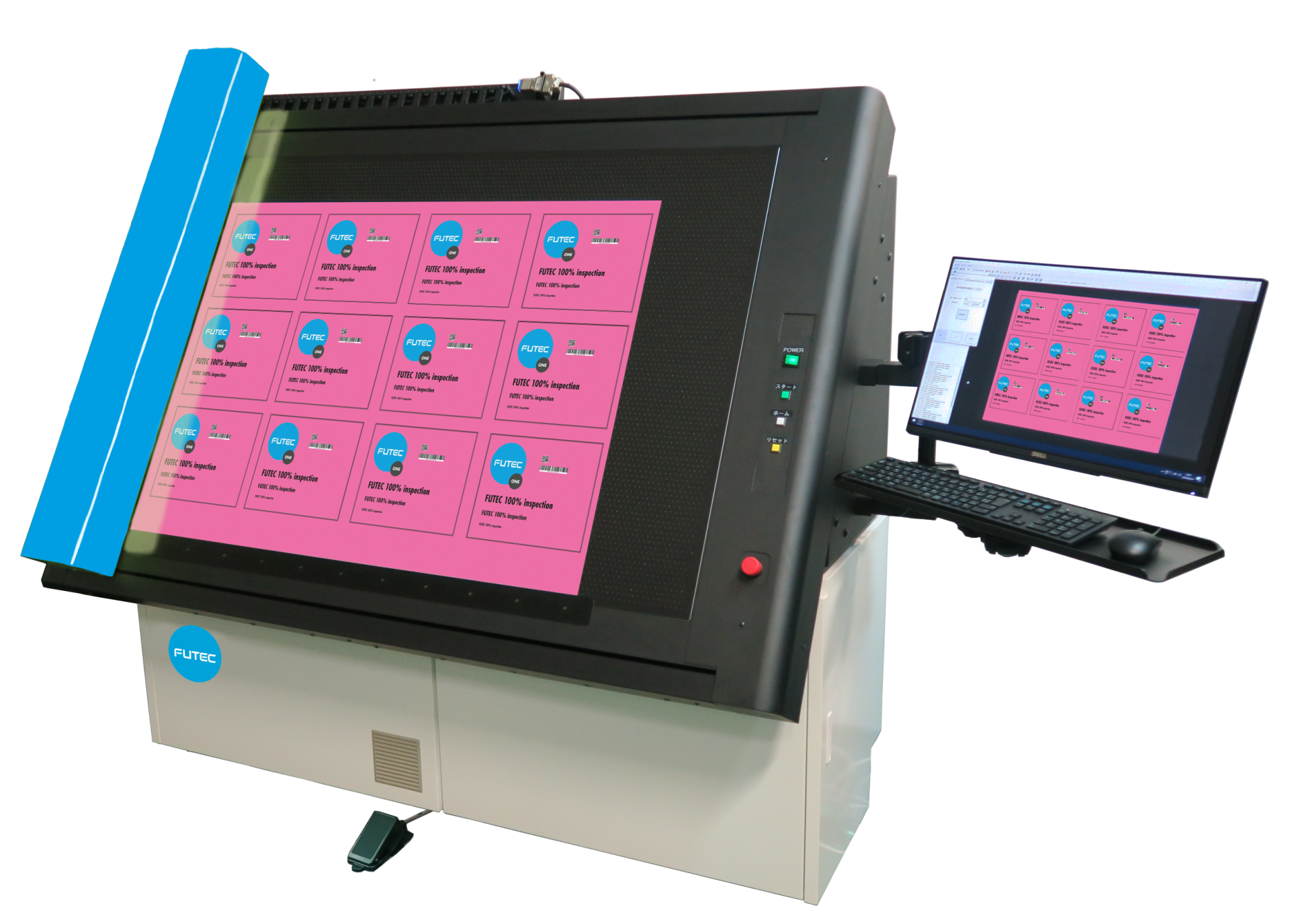 29 Jul

Offline Inspection – FUTEC one proof

Are the right print cylinders or clichés mounted?
Are all colours correct?
Is the language correct?
Are the print cylinders or clichés damaged?

Many of our customers ask themselves these questions. Because if something goes wrong right at the start, the usual high quality is produced, but possibly with the wrong language. This means that the entire production cannot be sent to the end customer and has to be recycled. But how can safety be created here? FUTEC answers this question with its new offline inspection system – FUTEC one proof, which sets new standards in offline inspection.

No matter if pharmaceutical packaging cartons or flexible transparent materials such as PE, PP or PET. The FUTEC one proof system is prepared for all materials.
Inline pdf-comparison vs. Offline Inspection
Inline pdf comparison systems are usually linked to the 100% inspection system. When the press is correctly set and in register, the inspection system takes an image which is compared with a digital master. Usually the digital master is available in pdf format.
After the comparison is done, the operator is informed about the result and can act accordingly. In theory, this procedure sounds perfect, as no additional external system is required. Often there is already a 100% inspection system in the press that can perform the inline pdf comparison. FUTEC has also been offering the inline-pdf comparison for its 100% inspection systems. However, over the years we have learned that there are certain limitations that can only be solved by an offline inspection system.
At first glance inline pdf comparison systems have advantages:
System integrated in the printing press
If 100% inspection system is available, pdf comparison can be retrofitted
Material does not need to be removed to perform the test
Comparison can be made during the start of the order
At second glance, however, some difficulties become apparent:
Resolution often too low for small fonts (limit is often 8pt.)
Missing characters/letters/numbers are only recognized from a size of approx. 4mm².
Wrong characters/letters/numbers are not reliably recognized as for example
Color differences can only be detected with an extremely high deviation
Difficult to use with very flexible materials such as PE film

Distorted image cannot be compared with perfect digital master image
The disadvantages of inline pdf comparison systems increase the risk of a full production loss.
We have listened and learned
FUTEC listened and found a solution for the challenges. The FUTEC one proof system is more than just an offline inspection system. Our vision is to achieve a new standard in the field of digital inspection tables.
With a single scan the following parameters are compared:
Color

Even small colour deviations are detected

Language

Also for Arabic, Chinese, Japanese, Russian etc.

Variable data

Evaluation of 1D and 2D codes as well as OCR, serial numbers etc.
Quality evaluation of variable data (grading)

Detailed character evaluation

«P vs. R» and «6 vs. 8» are no longer a problem

Dimension measurement

Register errors still acceptable or out of tolerance

Print design

Typical misprints such as tipping, extractor etc.
All these features are displayed quickly and transparent.
Scan time: 5 seconds
Evaluation: 30 seconds
FUTEC one proof – Operating principle
The FUTEC system is designed for large formats with a maximum width of 1300mm and a maximum length of 900mm.
The resolution can be selected from 150dpi to 600dpi.
A special highlight of the system is the easy handling. The table generates a vacuum and sucks the material, so that the angle of the table is perfectly positioned towards the operator. The vacuum itself can be switched on via foot control and its intensity can be changed.
The adjustable vacuum makes it easy to use even very flexible materials such as thin PE film. The film is sucked onto the table and the resulting wrinkles can be easily removed.
With conventional flatbed scanners it is almost impossible to scan thin films without wrinkles.
Additionally the FUTEC one proof system comes with two interchangeable background colors (black and white), so that even transparent film can be compared.
Download our white paper and learn more about the following topics:
Applications for offline inspection systems
Differences in offline inspection between gravure and flexo printing
Functions of the FUTEC one proof in detail
Download also our product brochure and don't forget to register yourself for our customer tour 2020 or ask for a virtual live demo.